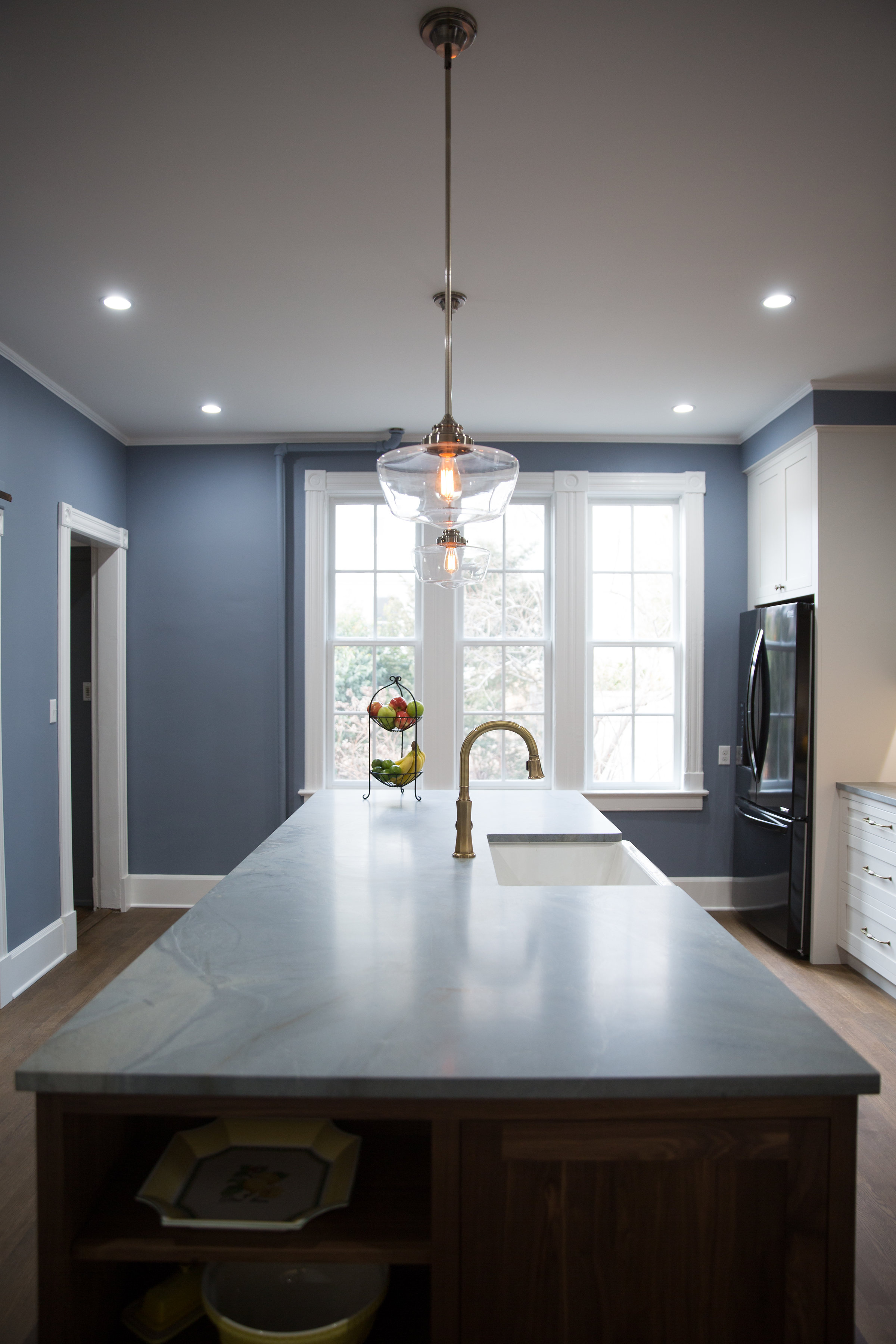 One might think an advantage of having a large family is when it comes time to cook or cleanup in the kitchen, all those extra hands will make those tasks go quickly. Well, not so much when the kitchen you're trying to fit everyone into seemingly fights against your attempts at efficiency.

Case in point, this bizarrely configured kitchen – with it's inside-out U-shape, limited countertop area and excessive number of hallways – was failing miserably at its job of accommodating a family of 6.

Our goals were clear on this renovation. One, create a kitchen large enough to allow the family to comfortably co-exist. Two, design and use materials that respect and reinforce the style and age of the nearly 130-year old home. And three, devise unique ways to re-envision the simple palette of colors and finishes already on display in the remainder of the home.

We achieved the first goal by removing several non load-bearing interior walls and replacing the rotted and terribly out-of-level subfloor. The second goal was achieved thanks in part to new inset shaker style cabinetry, a glazed brick backsplash, quartzite countertops, and quarter sawn oak floors. The last goal was a joy to pursue. Open any of the the white cabinets at the kitchen perimeter and you'll find the interiors are all built in a contrasting black walnut with fully integrated interior LED lights. The walnut theme continues throughout the island cabinetry and even into the wood floor, which features a simplified version of the walnut borders visible throughout the rest of the home.

Cabinetry designed by Plain & Fancy Montclair and built by Plain & Fancy Custom Cabinetry. Appliances by Wolf, La Cornue, LG, Bosch and U-Line. Countertops by Dente Trading. Backsplash by Fireclay Tile. Cabinet hardware by Top Knobs. Plumbing fixtures by Kohler and Newport Brass. Custom barn door by yours truly, Wyanoke Builders.